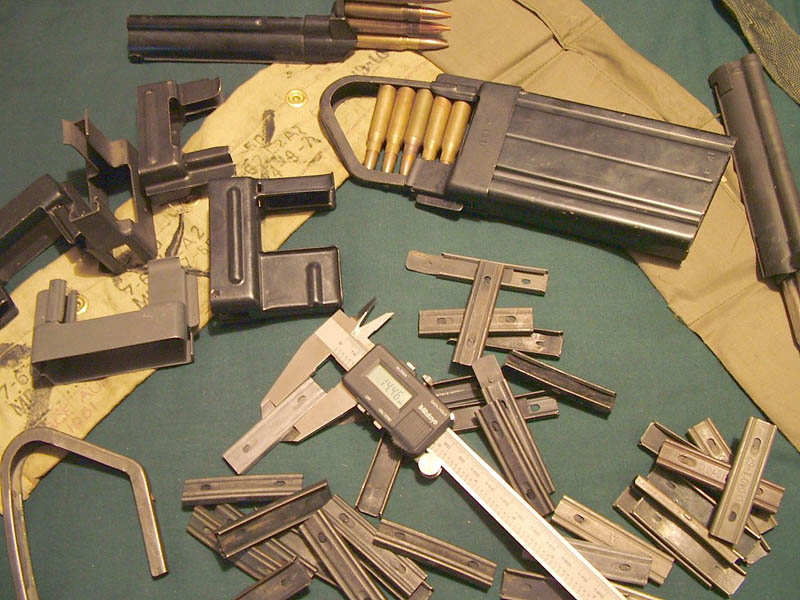 Updated :

9th January 2021

What's New?
New
Updated

Australian Stripper Clip Page


(9 January 2021)
Overall site rebuild
Due to my ISP closing its homepage service and the fact I managed to lose the password the site has been in a state of limbo and vanished when the ISP finally shut their hosting down, I'm endeavouring to rebuild the site, but there are over 130 pages and thousands of links to recreate, its going to take some time to do.

WELCOME
to my web pages, I decided to put these pages together to help fellow collectors out there with the identification of 7,62x51 mm NATO Stripper Clips, in Commonwealth service known as the 7.62 x 51 mm Mk. 1, Mk. 2, Mk. 3 and Mk. 4 Chargers while in India they are known as Charger 7.62mm, Ammunition B. In American service they are known as CLIP, 5 Rnd (Round).
Around the world the term "Stripper Clip" translates into:- Argentine: " Peine ", Dutch: " Laadclip " or " Laadstrip ", Finnish: " sidettä¤ ", French: " Lame, chargeur ", German: " Ladestreifen ", Hebrew: pronounced 'Mitahn', Hungarian: " Tältöléc ", Italian: " Piastrina porta cartucce " or " Lastrina di caricamento " or " Piastrina di caricamento ", Japanese: " Sodanshi ", Romanian: " Lama de cartuse ", Spanish: " Clip de alimentación descartable ".
There are lots of sites covering cartridge collecting, firearms, bayonets and some sites covering accessories like slings and oil bottles its basically impossible to find any detailed information about the markings that are found on 7,62 x 51 mm stripper clips. My field of interest is the design, development and identification of the stripper clips in Australian, British and Canadian service. Along the way I have acquired clips from America, Belgium, Bulgaria, China, Netherlands, India, Israel, Italy, Nigeria, Spain, Taiwan and some I haven't been able to positively identify, can you?
For NATO countries these clips were manufactured to the NATO standard, for Australia, Canadian and the UK they also standardised their clips for interchangeability. Other countries outside of these also used this type of stripper clips with their rifles. These clips were used in rifles such as the FN FAL, L1A1, L2A1, C1A1, C2A1, M14, M14A1, M15, AR10, BM59, CETME, G1, G3, G3A1, G3A2, G3A3, G3A3Z, G3A4, Galil, SAFN49, M1949, SG510-4, SIG AMT, SG542, Type 64, T-57, 2A1, m/62, L8A1, L8A2, L8A3, L8A4, L8A5, FR7 and FR8.
It was due to the frustration of not being able to find the information about the manufacturers markings I turned to creating this website and asking for your help. If you have any stripper clips that are marked differently to those shown or you are able to contribute to this study please contact me with the details. I am always looking for new examples of manufacturers marking to add to the collection and I'm willing to buy or trade for unlisted examples. E-mail me.
For those of you that have a stripper clip that you do not know who's country it belongs to, try looking up the markings or finish of it here at the:-
It's been 18 years since I started my project and it has progressed very well over that time and I've made some good contacts via the internet. If you've ever wanted to do your own web page I say go for it, it's worthwhile even if your interest is a little off the wall like this site. Someone else will also be asking the same questions you are and they might be able to help you with your collecting or research. Like the saying goes "Build it and they will come". It certainly worked for me and it's not as hard as you might think.
If you have any information you wish to share with other collectors please let me know to help enhance this reference site. If you are a repeat visitor, thank you for coming back, for those first timers ...... enjoy, I hope you find these pages useful to you.
---